All Rights reserved. background music "Let´s Have A Crazy Ball" / "Dream Boy" written by A. Praefcke. 2014 Rhythm Bomb Records / Elbmusikverlag

Cherry Casino on FACEBOOK

C

HERRY

C

ASiNO

AND THE GAMBLERS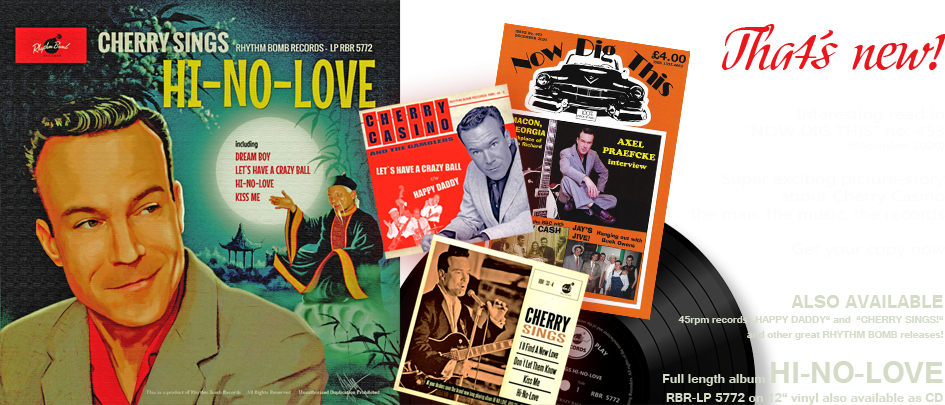 PLEASE NOTE THAT SHOWS MAY BE CANCELLED SHORT NOTICE.
WE´LL DO OUR BEST TO KEEP YOU UPDATED.
PLEASE ALSO CHECK EVENT PAGES.





14.-15.10.2022

UK, Camber "RHYTHM RIOT"

22.10.2022

GER, Hamburg "FABRIK"

19.11.2022

IT, Treviso "NASTY BOYS", Sun & Lightning - Show

24.-26.11.2022

ESP, Malaga "Blues At Moonlight"

14.04.2023
D, tba
15.04.2023
D, Leipzig "Tonelli´s Blues Bar"

01.06.2023 (Thursday)

SE, Öland "American Days"

09.06.2023

D, Hamburg "Klangbar"

10.06.2023

NL, Amsterdam "D-Day"

07.07.2023
D, tba
08.07.2023
D, Wolframs Eschenbach "Oldie Town"
09.07.2023
D, Wolframs-Eschenbach "Oldie Town" (with the Velvet Candles)
Cherry Casino and the Gamblers made their first public appeareance in august 2002 at the famous "Brandenburg- Weekender" in Werder/Berlin and went down very well. The Boys have built up a huge following of fans, all over Europe. Constant touring, and their dynamic live stage show has won Cherry Casino a huge legion of devoted fans. Five funny faces break the ice in less than a second every time they appear with their well blended mix of early R&B and furious Rock and Roll ! 2005 continued in the same vain with one little difference...After all the live shows they were preparing themselves to cut their first album "Let´s Play Around". It was released in February 2006 followed by the album "Fat Mama´s Daughter" in 2008.
It´s a rather tough task to try and categorize the music of Cherry Casino and The Gamblers. It certainly is music to dance to and have fun with but also music that features a heavy after-beat and a breathless singing style that listeners of all ages can enjoy. This is the mixture that has helped Cherry and the boys zoom to the top and gain their world-wide reputation as one of the hottest bands in the rock and roll genre!

Cherry is in the headlines again - this time not for another of his most exciting stage shows backed by his exuberant and talented group The Gamblers - but for the long awaited release of his brand-new long playing album.Teen-agers all around the world were fascinated and taken by the strength of his first two albums "Let´s Play Around" and "Fat Mama´s Daughter", both on Rhythm Bomb Records. Cherry´s belting delivery not only stands out vividly on record but also with his personal appearances, which accounts for his universal popularity... especially with the teen-age contingency.
What´s so special about the sound of Cherry Casino? The key is that his recordings sound like a mirror image of his stage appearances. When you drop the needle on your Hi-Fi you could almost think Cherry and The Gamblers were performing right in your living room! These songs are as crisp and refreshing as a glass of ice-cold lemonade on a hot summer day.
The band plays classic 1950´s Rock and Roll with catchy lyrics and hard driving guitar/sax lead breaks and is trying to come as close as possible to the magic sounds of the era. Cherry loves T-Bone Walker, Wynonie Harris, Big Joe Turner and all kinds of mirrors.
Long-playing album HI-NO-LOVE (LP/CD), september 2014, out on RHYTHM BOMB RECORDS. Order now!
45rpm vinyl 4-track EP. BRAND NEW in january 2014, out on RHYTHM BOMB RECORDS. Order now!
45rpm vinyl single. BRAND NEW, out now on RHYTHM BOMB RECORDS. Order now!
CD "Fat Mama´s Daughter" Rhythm Bomb Records released in april 2007.
The CD was recorded in Berlin at LIGHTNING RECORDING SERVICE a division of Rhythm Bomb Records.
We would like to thank Rhythm Bomb Records for all the great support.
CD "Let´s play around" Rhythm Bomb Records released in February 2006.
01. Huh Baby
02. Gonna tear your Playhouse Down
03. Did you hear that Door slam?
04. You´re too high for me
05. A Bar called Moe´s
06. Baby please come back
07. Night Train
08. Five minutes more
09. Headlight Blues
10. All Night long
11. Plans without me
12. Let´s play around
13. Girl next Door
14. Lump in my throat
15. Rockin´ and Rollin´
The CD was recorded in Berlin at LIGHTNING RECORDING SERVICE a division of Rhythm Bomb Records.
We would like to thank Rhythm Bomb Records for all the great support.
CD-Compilation " Hot Rodder´s Paradise " Rhythm Bomb Records.
released in 2006.
CD-Compilation " Perfect for Parties " Rhythm Bomb Records, released in 2005.
| | |
| --- | --- |
| | |

For CD order, booking, merchandise and info please e-mail to: cherrycasino(at)freenet.de
please click on the image to download promo picture (jpg, 300 dpi)

please click on the image to download Poster (PDF) 300dpi, size A3
Herausgeber dieser Website: CHERRY CASINO & THE GAMBLERS
e- mail: cherrycasino@freenet.de

Haftungsausschluss
Die Inhalte dieser Website werden mit größtmöglicher Sorgfalt recherchiert und implementiert. Fehler im Bearbeitungsvorgang sind dennoch nicht auszuschließen. Hinweise und Korrekturen senden Sie bitte an die hier aufgeführte Adresse.
Eine Haftung für die Richtigkeit, Vollständigkeit und Aktualität dieser Webseiten kann trotz sorgfältiger Prüfung nicht übernommen werden. Wir übernehmen insbesondere keinerlei Haftung, für eventuelle Schäden oder Konsequenzen, die durch die direkte oder indirekte Nutzung der angebotenen Inhalte entstehen.
Wir sind als Inhaltsanbieter für die eigenen Inhalte, die es zur Nutzung bereithält, nach den allgemeinen Gesetzen verantwortlich. Von diesen eigenen Inhalten sind Querverweise ("externe Links") auf die von anderen Anbietern bereitgehaltenen Inhalte zu unterscheiden. Diese fremden Inhalte stammen weder von uns , noch haben wir die Möglichkeit, den Inhalt von Seiten Dritter zu beeinflussen. Die Inhalte fremder Seiten, auf die wir mittels Links hinweisen, spiegeln nicht die Meinung des Unternehmens wider, sondern dienen lediglich der Information und der Darstellung von Zusammenhängen. Wir haften nicht für fremde Inhalte, auf die es lediglich im oben genannten Sinne hinweist. Die Verantwortlichkeit liegt alleine bei dem Anbieter der Inhalte.

Urheberrecht
Alle auf dieser Website veröffentlichten Inhalte (Texte, Grafiken, Bilder, Layout usw.) unterliegen dem Urheberrecht. Jede vom Urheberrechtsgesetz nicht zugelassene Verwertung bedarf vorheriger schriftlicher Zustimmung der jeweiligen Berechtigten. Dies gilt insbesondere für Bearbeitung, Übersetzung, Vervielfältigung, Einspeicherung, Verarbeitung bzw. Wiedergabe von Inhalten in Datenbanken oder anderen elektronischen Medien und Systemen.
Downloads und Fotokopien von Web-Seiten - nur für den persönlichen, privaten, nicht kommerziellen Gebrauch - dürfen grundsätzlich hergestellt werden. Die unerlaubte Reproduktion oder Weitergabe einzelner Inhalte oder kompletter Seiten wird straf- und zivilrechtlich verfolgt.

Kommunikation über E-Mail
Kommunikation via E-Mail kann Sicherheitslücken aufweisen. Beispielsweise können E-Mails auf ihrem Weg an uns von versierten Internet-Nutzern aufgehalten und eingesehen werden. Sollten wir eine E-Mail von Ihnen erhalten, so gehen wir davon aus, dass wir zu einer Beantwortung per E-Mail berechtigt sind.